Thought for the Day
Those who can laugh without cause have either found the true meaning of happiness or have gone mad
In Memoriam
Peter Thomson, who died last week, was one of the most anonymous and least-lionised multiple major winners in golf, which is probably just how he would have liked it. Far too sensible and grounded to court publicity or stardom, a man of strong opinions and unafraid to voice them, he was old-fashioned but, to my eyes at least, a fine and admirable man.
As a golfer he had that incredible major sequence when, in a seven-year stretch he was either first or second in the Open Championship, winning four times. Starting in 1952, his record is: Runner-up, runner-up, winner, winner, winner, runner-up, winner. Three of those victories were in consecutive years (1954, '55 and '56), a feat unmatched by any 20th or 21st century golfer. That sequence alone is enough to guarantee Thomson's place in the golfing firmament but then, after a seven-year drought he won for a fifth time and this final victory is particularly significant.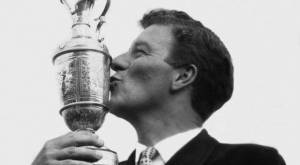 Thomson's critics, and there have been a few down the years, suggest that the value of his Open wins is diminished by the fact that very few Americans, indisputably the best golfers in the world, bothered to travel to Britain to play in the oldest major. But it remains a truism that any sporting champion can only compete against those who turn up and Thomson's transcendence would likely have been achieved no matter who he was facing. In addition, that final Open win in 1965 was in a field that included defending champion Tony Lema, Arnold Palmer, who at the time had seven majors to his name, Jack Nicklaus (four majors) and Gary Player (four majors).
Thomson was dominant because he was an absolute master at links golf, quite possibly the best there has ever been, and this supremacy was achieved because of two factors – his game and his character. The golf he played was extraordinarily straight and steady. He punched low, short shots that relied on at least a third, if not a half of their distance being achieved after the ball hit the ground. On tightly-mown, hard-baked, fast-running links courses this is the ideal scenario. It also meant that his ball flew below the wind, which has been known to blow in Britain, even in summer. Married to his skill with the putter, Thomson's ball flight made him a formidable exponent of the oldest type of golf.
His character was personified by what he regarded as the most important trait of a golfer, which is calmness. He was a cerebral, thinking player who, if his ball ended up in trouble, did not moan and gripe or curse his bad luck but instead applied his analytical brain to weighing up his options and choosing the least damaging one. This equipped him with the perfect attitude for golf in general and links golf in particular, where capricious bounces, unplayable lies in a bunker and all the other vagaries of smacking a ball across uneven terrain are much in evidence. He was not exciting, dramatic or bold, but smooth, relentless and largely error-free, causing him to be admired and respected by galleries rather than loved. However, this suited Thomson because he shied away from adulation. It must also be considered that his achievements in The Open have been downplayed, particularly by Americans, because they did not like him much.
Educated, literate, well-read, a man who appreciated the classics of literature, music and art and who cited Mahler as his favourite composer, Thomson was not a run-of-the-mill sportsman. Come to that, he was not the archetypal Australian, either. And this is not intended to reinforce the stereotype of Aussie men (and women) being hard-drinking, irreverent and macho to the point of stupidity. Many are sophisticated exemplars of manners and breeding – look at their cricketers, for example.
Thomson enjoyed travel for the opportunities it gave him to visit art galleries and opera houses or to sample and compare the local wines. Pro golfers do not, in the main, behave in the boorish, crude ways of some other sports stars but neither are they missing their calling as professors of logic or students of the humanities. Ask a pro golfer what book he is reading and it will likely be the latest Dan Brown; while his favourite movie of all time is almost certain to be Caddyshack.
For Peter Thomson these would never have been enough. Self-contained, confident, widely read and not afraid to express an opinion, he was not a man of whom you asked a question unless you were prepared to hear an honest answer. So when he played in America, for example, and was asked his view of the golf courses, he criticised what he called the 'pick-a-yardage and hit-a-club' mentality, where every shot was flighted high and club selection was dictated solely by distance.
He also detested the numerous water hazards on American layouts and didn't make too many friends by saying: 'I find it quite difficult to get myself excited about what I consider lesser events – including some of the $100,000 variety.' In short, he was like the dinner guest who criticises the food, argues with his host and gropes the hostess. Similar comments earned him a reputation, not entirely undeserved, as an arrogant, aloof, unapproachable snob who regarded himself as above the common herd. The truth is that his range of interests was so wide that he preferred to be on his own reading a biography, than sitting in a bar with half-a-dozen other pros, hearing them talk, again, about the bogey they made on the 14th.
Yet whatever people may have thought of the man, (and many of us rather admire those who are prepared to swim against the herd, or whatever the expression should be) his five Open wins mean that, in the long history of the game only 13 golfers have amassed a bigger haul of majors. But ask today's pro golfers, paid observers of the game and enthusiastic fans to rank their top-20 greatest of all time and Thomson's name would be missing from many of those lists.
He should be remembered and celebrated, both for his golf and the manner in which he lived his life.
Afterthought
Brace yourself. Now that Brooks Koepka has successfully defended his US Open title you have to gird your loins for next year, when American commentators will resurrect that awful word 'Threepeat'.
Carnasty
I don't want to alarm anyone but I have played Carnoustie a couple of times in the last few weeks and it seems just like 1999. Unusually early sunshine has produced high, wispy rough so now all we need is a bit of heavy rain and the parallel with the year Paul Lawrie lifted the claret jug would be difficult to ignore.
Quote of the Week
Designing, engineering and constructing an atomic bomb is simple compared to trying to teach a fellow how to stop shanking
Tommy Armour